The ProScan is a quick, accurate and reliable behavioral profile assessment. Over 5 million people have confirmed the accuracy of the ProScan since it was released in 1977. This is one of the few scans that is based on statistical analysis versus theory and has been used by both large and small companies all over the world.
The ProScan has been used by organizations to help look at key attributes for specific roles and it is also used by marriage counselors helping couples understand their unique gifts and talents. The ProScan is a powerful tool in helping individuals understand their strengths and how to use those strengths to communicate and lead others.
The ProScan will show your preferred style of behavior and compare that to your efforts to adjust to the environment around you and how you come across to others you interact with. The scan shows your Natural Self which is how a person functions when there is freedom to respond in a completely natural way. This is who a person really is and tells how a person prefers to communicate and respond to others. However, we all live in different environments that can impact our behavior. The ProScan helps us look at not only how we are currently behaving but also how others perceive us.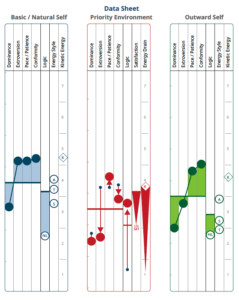 The ProScan then goes over the four cornerstone behavioral traits: Dominance, Extroversion, Pace, and Conformity. The four cornerstone behavioral traits provide a good insight into how people will respond to different situations. The relationships of these four traits provide additional insights that will be discussed during the consultation.
The assessment also looks at how you like to make decisions, what your energy style is, how stress impacts your behavior, and your communication style.
ConceroMed uses the ProScan to coach on an individual level but we also use it to help organizations model out the key attributes needed to succeed in a specific roles. Hiring the right people for the right roles is more critical than ever. By modeling out the jobs it increases hiring success and reduces turnover. The ProScan is a foundational tool that we use to help organizations build a foundation for success.
If you are interested in learning more about the ProScan and how we use it please contact us through the form at the bottom of the page. If you are ready to take the next step in your personal development and want to sign up for the ProScan and a one hour consultation to review then please select the button below.